Read Full Article HERE: https://www.pilotonline.com/life/vp-db-lawrence-brothers-community-20210103-6rcwozvncvfcdayneo2wfv3kmu-story.html
In 2014, the brothers were this close to a payoff that had been years in the making.
Kevin and Doug Lawrence had built an annual hair and fashion spectacular that drew thousands to Hampton Roads and was one of the largest beauty-industry events on the East Coast. They made good money. They were helping others make good money. And, they were sending stylists to national competitions who were winning five-figure prizes.
Then life happened.
It seemed inevitable that the two who had competed together as children and had built a business together as adults would simultaneously go through personal hurdles that put the "Lawrence Brothers" brand on hold.
Stage lights went dormant. The electric photoshoots canceled. The always-on, self-promoters grew quiet.
The brothers are now back doing work that is much less glamorous, but more meaningful. They are working to make this next chapter the best "Lawrence Brothers" production yet.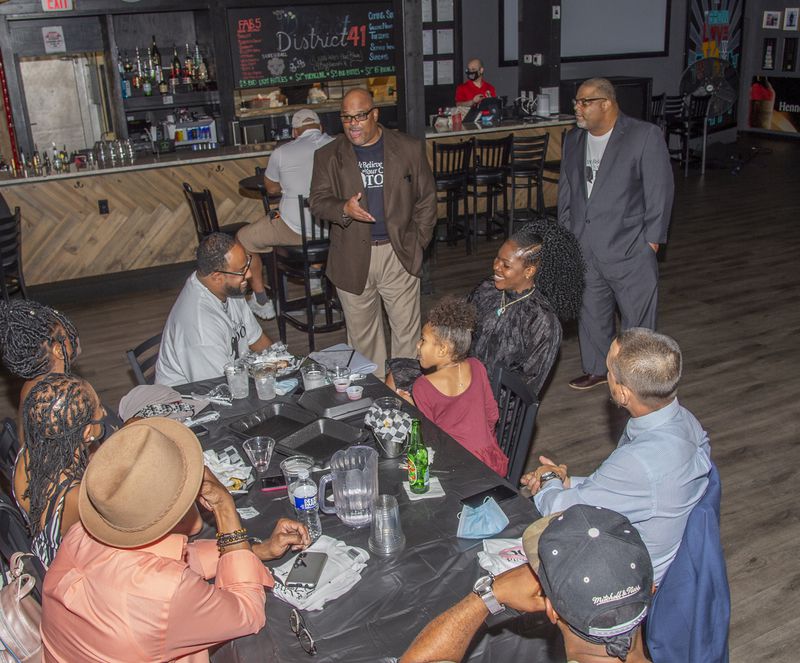 "The Lawrence Brothers," as many locals know them, grew up as the tail end of four "Jackie's boys" in Harrisburg, Pennsylvania. Mom, Jacqueline Lawrence, said Kevin was the more outgoing of the two and earned more spankings. Doug was the more serious one. When Kevin got into something, Doug was on his heels.
They ran track together. They went to different colleges, but each got there on sports scholarships. They both studied criminal justice. Both wanted to carve paths that would somehow help other people.
Doug moved to Maryland and is now a senior investigator in Washington D.C., researching allegations of police misconduct. Kevin moved to Virginia in 1998 and is a recruiter at Sentara College of Health Sciences. Before promoting Sentara, though, he found other work that took advantage of his gift of gabbiness. He was hired to promote and find recruits for a local barbering school. In 2005, he helped open Changing Faces barbershop in Newport News.
Kevin was good with business, terrible with clippers.
"I was absolutely the worst barber in the history of barbering," he said. "I could talk people into coming into our barbershop. … But I wanted to say we had THE best barbershop. I wanted to advertise that and say we had the best, so I had to prove it."
He got business cards with his photo on them, a move he saw successful real estate agents do. He was at a networking event in Richmond when he spotted record executive Russell Simmons. Of course, Kevin zipped into his presence, shook his hand and gave him a card. Simmons, Kevin said, remarked that Kevin must be a hell of a barber to have his face on a card. Kevin corrected him right away.
"But I'm here to learn how to drum up business."
Simmons suggested that Kevin get people into the shop by renting venues to throw parties and have people come by the shop to buy the tickets.
It worked. He then looked at promoting the stylists by getting them into hair competitions. He learned about the granddaddy of hair battles, the Bronner Bros. International Beauty Show held in Atlanta that year.
One of the coordinators he talked to said that his group wasn't established enough to compete. Kevin told the woman he'd call her every day until she caved. He bugged her as promised, but his shop eventually got in, he said, when another stylist canceled.
Kevin's contestants showed up, showed out — and lost. On the drive back, Kevin came up with the idea of starting his own show and making his money back.
That meant calling Doug.
In 2007, they launched Lawrence Brothers Promotions, the same year their oldest brother, Robert, was diagnosed with lymphoma. He died in 2009.
That only made Kevin and Doug more focused, they said. Doug, the details guy, started driving down regularly to help with the planning. The brothers held their first show at the Chesapeake Conference Center in 2007. They decided to theme the annual shows after phases they were experiencing at the time.
Their first show, "The Wake Up Call," was followed by "THE GOOD LIFE Hair and Fashion Show."
Each year became sleeker, more daring with dancers and stylists from around the state. They were also sending teams to the Bronner Bros. shows to compete. The year they planned their 2010 "Evolution" show, one of their barbers from Virginia Beach won the $20,000 grand prize at Bronner. The following year, the year of the "No Boundaries" show, a stylist from Chesapeake snagged the top prize.
Sponsors quickly opened their doors to the brothers when they came knocking. Their shows were attracting larger crowds in the thousands.
In 2013, they titled their December show "Prime TIME" and were already eyeing 2014 with six-figure sponsorships in the bank. They were going back home to Pennsylvania and planning a multistate show in King of Prussia near Philadelphia. The aim was to draw stylists and eyes from New York and New Jersey.
But, a couple of months before "Prime TIME," the brothers went to a football game at the University of Maryland where Doug had played football.
Doug wasn't feeling quite right. Kevin voiced the concern: "Why is it that there are 50,000 people here and I can hear you breathe?"
Doug went to the hospital. He was suffering from cardiomyopathy, a disease of the heart muscle. He was 43 and could die any minute. The long drives, fast food and little sleep had compounded. He needed surgery. Kevin, meanwhile, admitted his marriage was ending. It would be his second divorce, and it rocked him. He, too, needed to slow down.
They made "Prime TIME" happen that December, but scrapped 2014. As Doug tinkered with diets and medicine, Kevin "drifted." They kept their personal problems to themselves and told outsiders they just decided to take a break from promotions. The dancers, stylists, businesses that were banking on that show were not happy. The brothers were crushed.
"You don't want to make these announcements on Facebook," Doug said. "I didn't have a platform to say, 'Hey, I'm battling for my life, here."
The brothers convalesced. They weren't going to let the business go, but they believed it needed to be different. Instead of discussing barber battles and glam, they started talking about the importance of perception, purpose and legacy.
"We don't do anything without each other; that's how we grew up. We were Jackie's boys," Kevin said. "That keeps me focused. We're all we got."
In 2017, they rebranded themselves as "Jackie's Boys" and started the nonprofit "We Believe in Your Child Too." It raises scholarship funds for college students.
Now, when the brothers go to businesses for support, it's for a nursing student to buy textbooks or a performing arts student to pay for a class. Businesses, they said, are also more willing to listen.
"They know what our purpose is," Kevin said. "We want to educate and we want to inspire people. I don't have to preach that now because we're living it."
They've given out more than $12,000 so far.
In September, Tiffany Lewis, 35, of Hampton became their latest $1,000 scholarship winner.
They knew Lewis from her years of performing in their shows. Lewis had moved to California to become a professional dancer but returned home in 2011 when her father became ill. Lewis worked, got engaged, had a child, but still felt stuck. She was planning to move to Atlanta to dip back into the business when the brothers called her about the scholarship.
They'd heard through a friend that she hadn't given up on a dance career. The pandemic has put the move on hold, she said. She's saving that $1,000 to help defray the costs.
"It is really the grace of God," she said. "I was literally depressed, sad and down and it is crazy that they called me at that time."
The "Lawrence Brothers' of old are still there. They want to do more hair and fashion shows post-pandemic. But they want their nonprofit work to take center stage.
"That's where we're at right now," Kevin said. "We are showing people who we are by reaching out to the community."
Denise M. Watson, 757-446-2504, denise.watson@pilotonline.com
Phone 757-693-0714
Email kevinlawrence50@icloud.com